I first published this little crochet octopus pattern on my old blog all the way back in April 2015. Since then it has become my most popular amigurumi pattern, and was even the 15th most popular craft on Favecrafts for 2021.

In this updated version, the pattern is still the same, but I've added new photos and a crochet tutorial video! Watch the video here: RIGHT-HANDED • LEFT-HANDED
You can also get a PDF version of the pattern, crochet kit, or ready-made octopus plushies in my store. Your purchase helps me continue making amigurumi patterns and other cute things!
Mini Amigurumi Octopus Free Crochet Pattern
This mini octopus is so quick and easy to make! It's worked from the top down, with legs crocheted straight onto the body, so there's almost no sewing. Finish off your octopus by sewing on the eyes and a little mouth. The whole project can take less than 30 minutes to make, and is great for using up leftover scraps of yarn.
These mini amigurumi octopuses make cute little gifts or decorations, and you can sew a keychain on top to make them functional too!
Difficulty: Easy
Size:
Using medium (worsted) weight yarn and a 3.5 mm (E) crochet hook, your octopus will be about 4 cm (1.6 in) wide. However, exact gauge isn't important, and you can easily adjust the size by using thicker or thinner yarn.
You will need:
• Medium (worsted) weight yarn in any colour - about 15 m (16 yds)
• 6 mm round black beads for eyes
• Black sewing thread
• Toy stuffing
• 3.5 mm (E) crochet hook
• Sewing needle
• Yarn needle
Abbreviations (US crochet terms):
R - round(s)
ch - chain
st(s) - stitch(es)
ss - slip stitch
sc - single crochet
hdc - half double crochet
dec - decrease (single crochet 2 together)
BLO - back loop only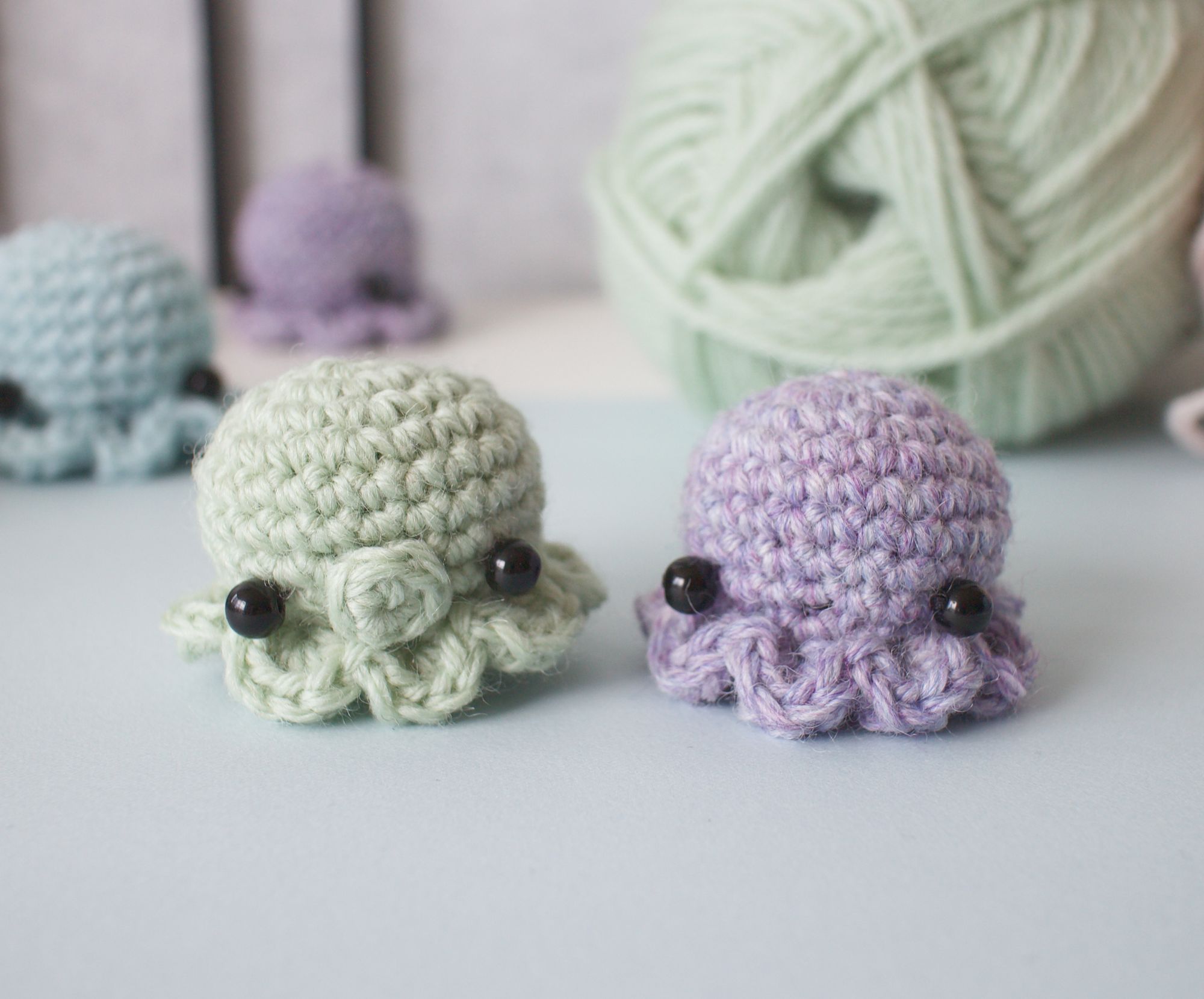 Pattern
Body:
Work in the round, without joining rounds (except where instructed).
Start with an adjustable ring.
R1: 6 sc in the ring.
R2: 2 sc in each st around. (12 sts)
R3: (2 sc in next st, sc in next st) 6 times. (18 sts)
R4: (2 sc in next st, sc in next 2 sts) 6 times. (24 sts)
R5-8: Sc in each st around, for 4 rounds. (24 sts per round)
R9: (Dec, sc in next st) 8 times. (16 sts)
Join round with a ss.
R10: Ch 1. Working in BLO (dec, sc in next 2 sts) 4 times. (12 sts)
You should now have a row of front loops left on row 9, that you'll use later when adding the legs. Stuff the body until it is nice and puffy.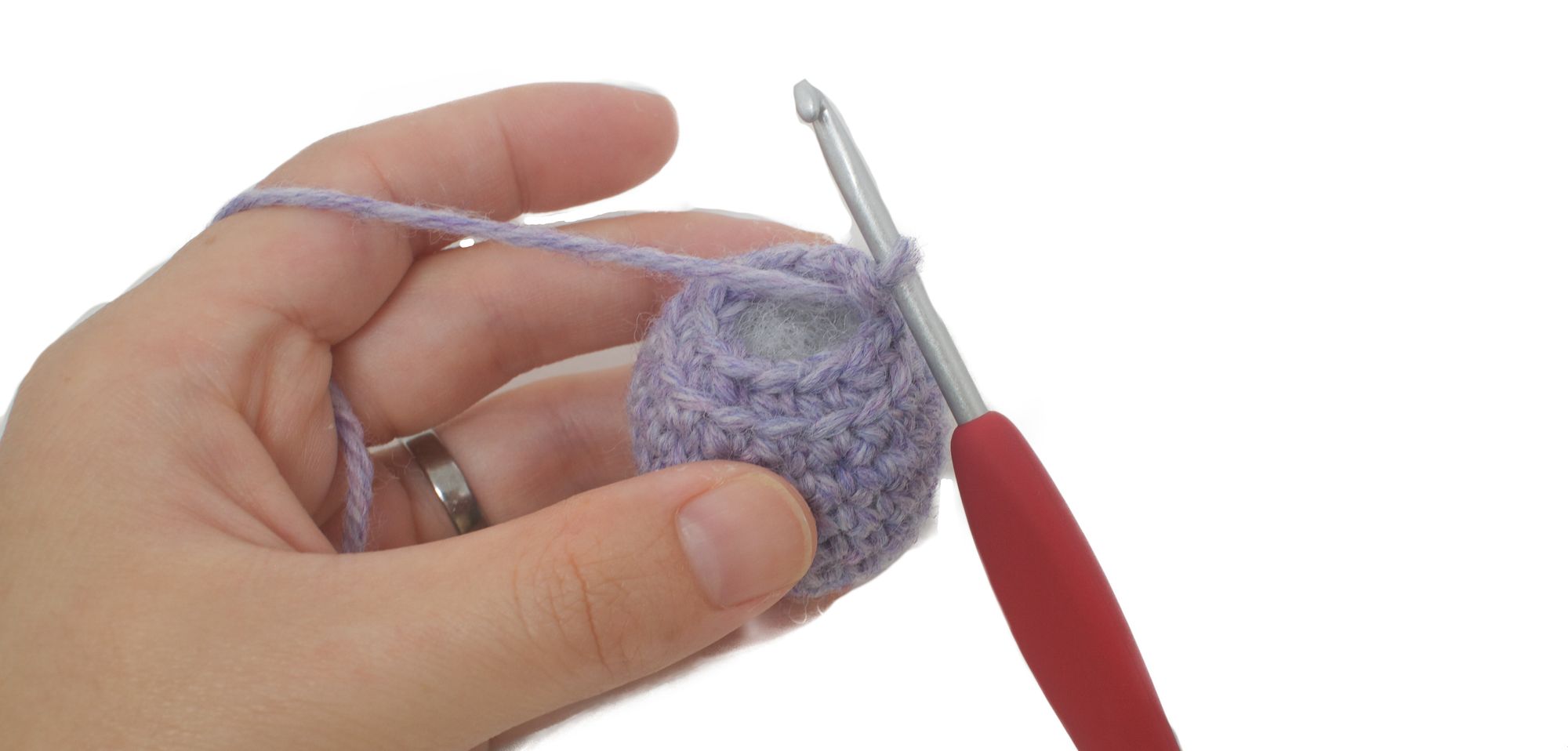 R11: Skip the ch 1 from the beginning of R10. Dec 6 times. (6 sts)
Cut yarn, leaving a long tail for sewing, and finish off. Add a little more stuffing if needed, then sew the hole closed.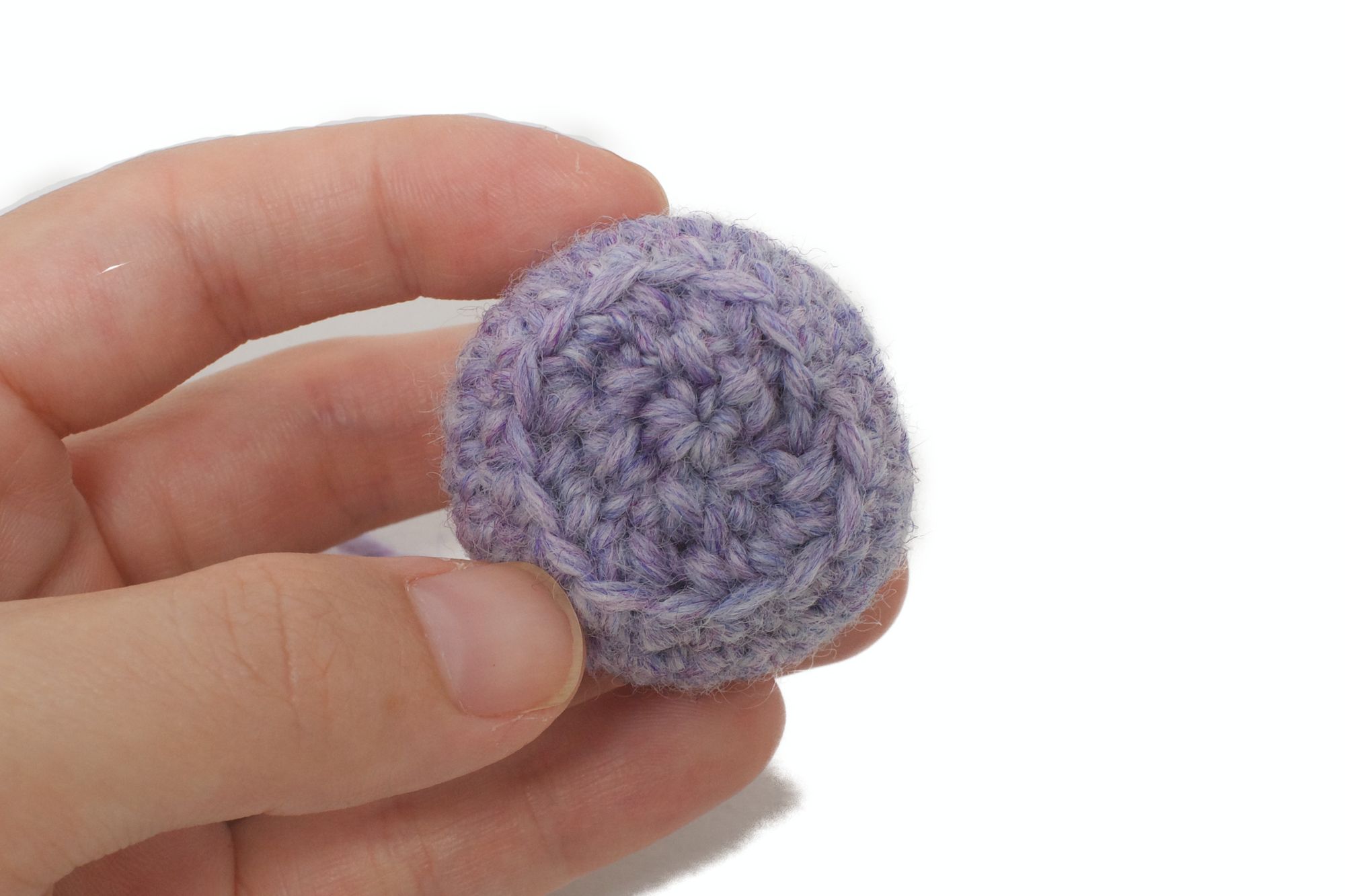 Legs:
Join yarn with a ss in one of the front loops left on round 9.
R1: (5 hdc in next st, ss in next st) 8 times.
Cut yarn, leaving a long tail for sewing, and finish off. Hide loose ends inside the body.
Mouth (optional)
Start with an adjustable ring.
R1: 6 sc in a ring.
Cut yarn, leaving a long tail for sewing, and finish off. Join round.
Finishing:
1. If you're adding a crocheted mouth, sew the mouth onto the front of the octopus, in line with rounds 7-9 of the body.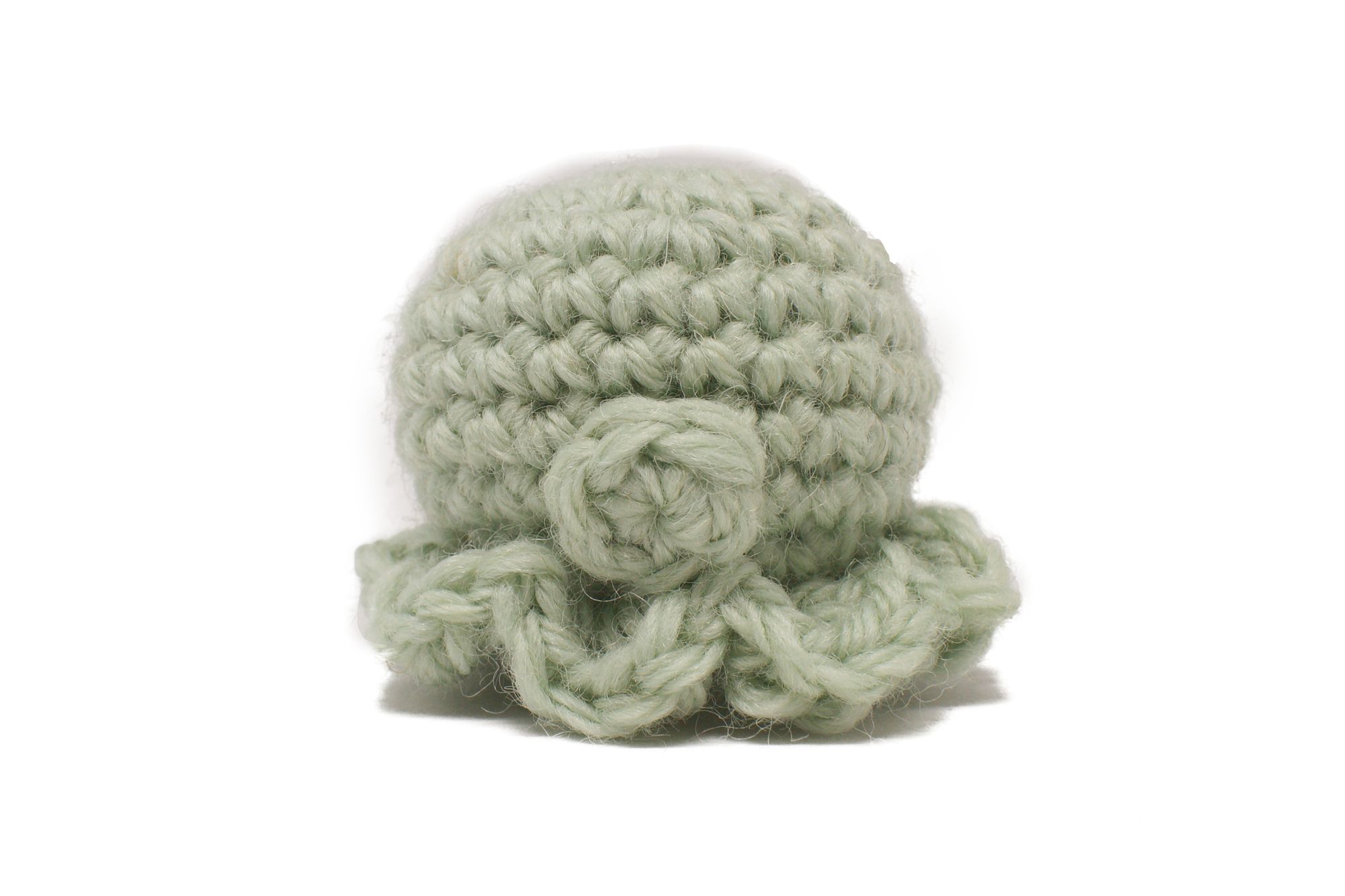 2. Sew the eyes onto the head, between rounds 7 and 8, and about 7 stitches apart. If you didn't make a crocheted mouth, use black thread to embroider a small mouth between the eyes.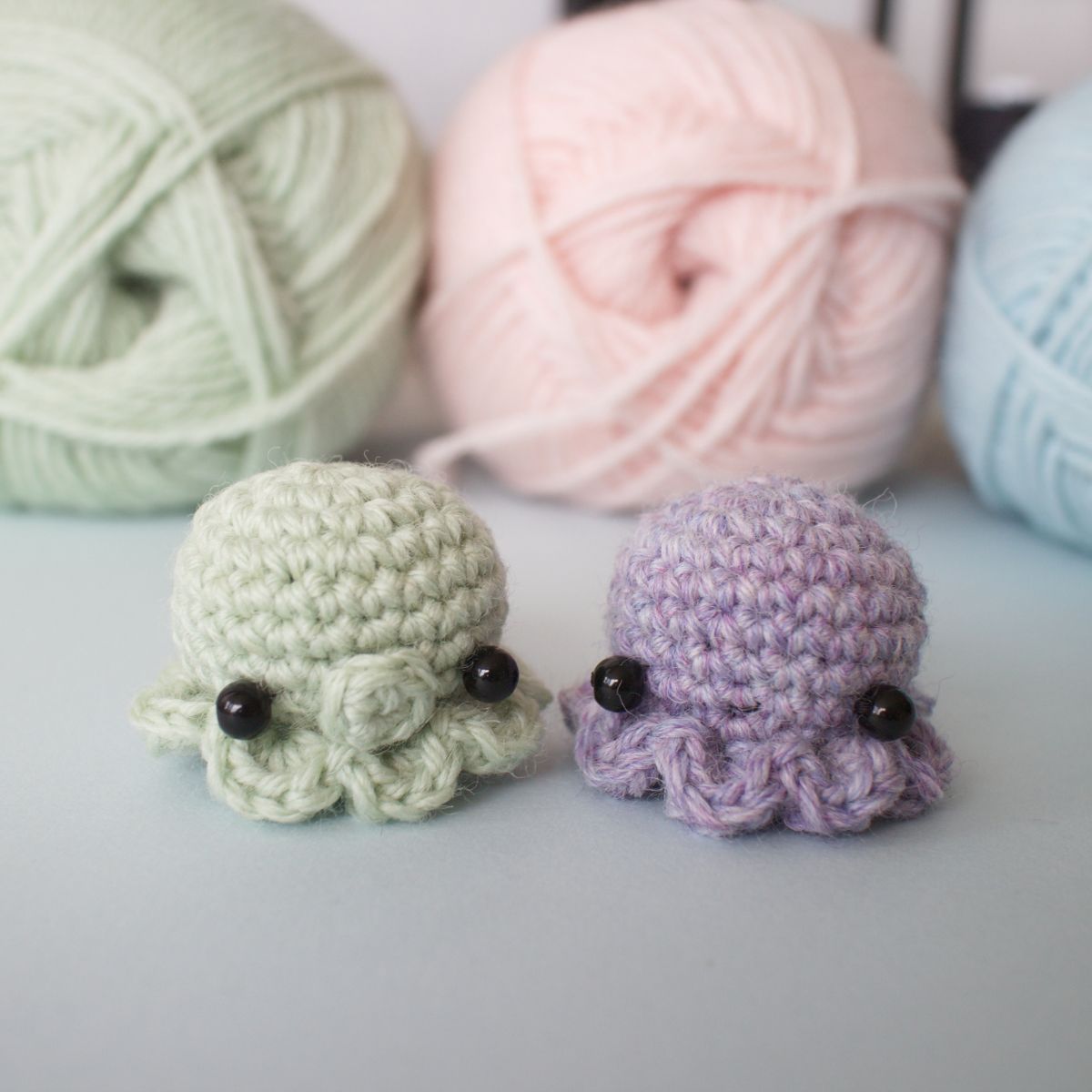 Your little octopus is now complete!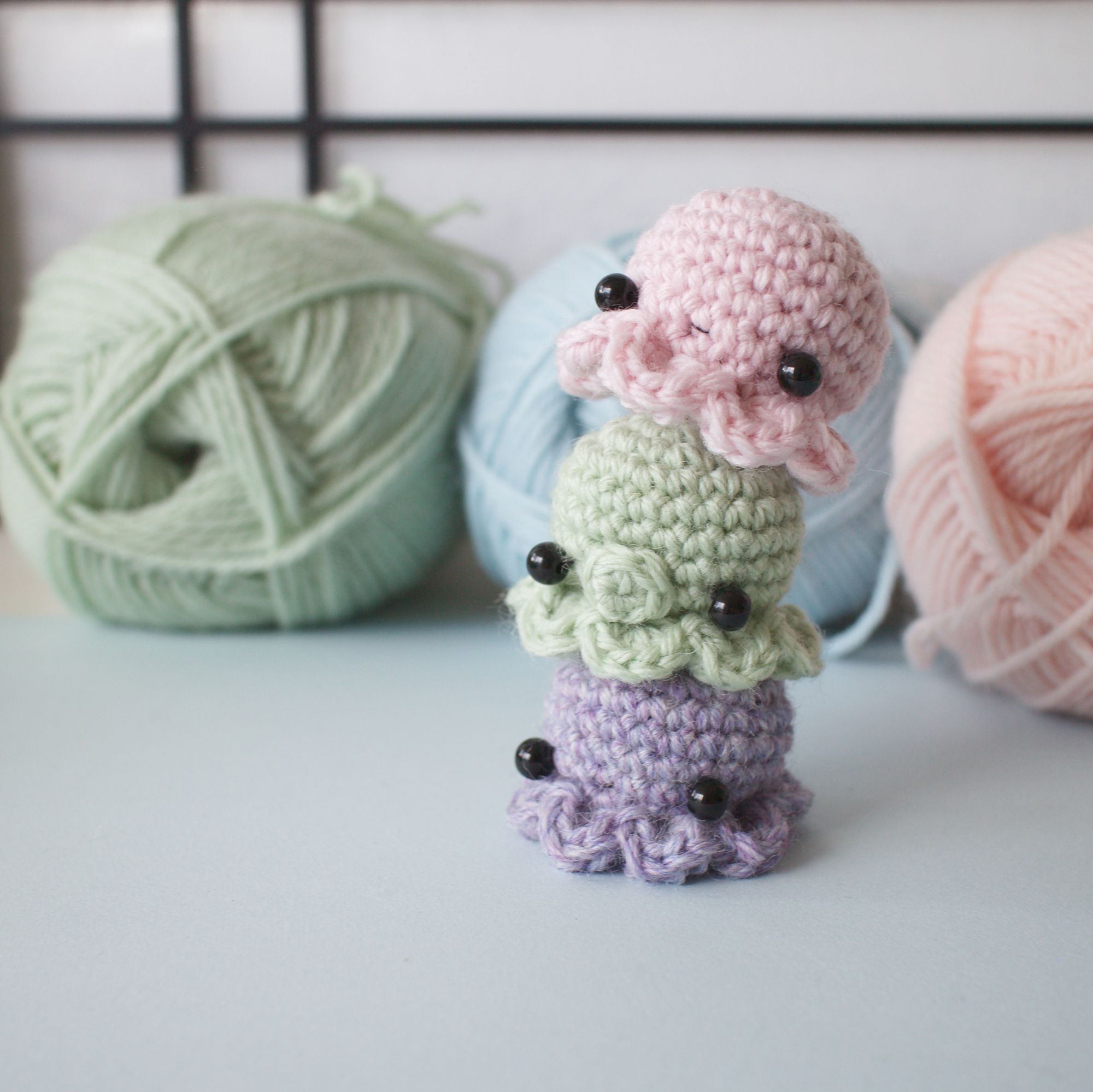 You can add this pattern to your queue and favorites on Ravelry. Or share photos of your creation on Instagram using #mohupattern. You'll even have a chance to be featured on our Instagram page!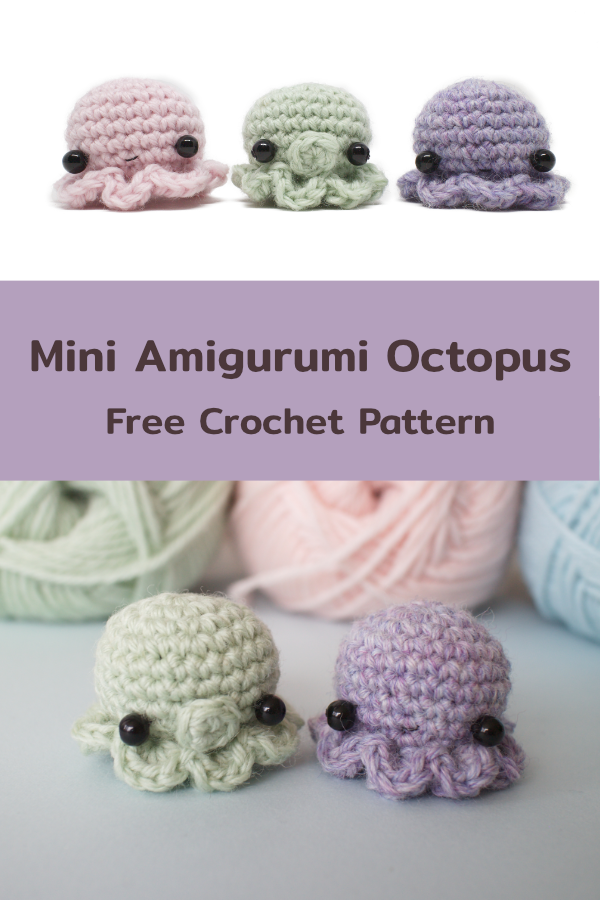 Copyrights and selling your finished amigurumi:
This crochet pattern, amigurumi design, and all accompanying photos remain the copyright of Lauren Bergstrom of Móhu Store. You may not publish or distribute this pattern, or altered versions of the pattern (including variations, translations and videos), without permission.
You're welcome to sell physical items made from this pattern, as long as you credit Móhu as the designer. For online listings, add a note at the bottom of each listing saying 'made from a Móhu pattern' (or something similar). I also appreciate it if you include a link to this page, or to mohumohu.com. For selling in person, a small tag with the information on each amigurumi will do.
The amigurumi you sell must be made by an individual person (no production line or mass-production). You may not use my photos to sell your own work.
---